Feature pages are design documents that developers have created while collaborating on oVirt.
Most of them are
outdated
, but provide historical design context.
They are
not
user documentation and should not be treated as such.
Documentation is available here.
Gluster Support
Summary
This feature provides support for reset-brick Gluster based storage clusters in oVirt. Glusterfs repo is available at http://download.gluster.org/pub/gluster/glusterfs/
Owner
Current Status
Requires : glusterfs >= 3.9
Detailed Description
This feature will introduce the capability of reset existing brick from the oVirt UI. Administrator will be able to perform Gluster volume reset-brick operation.For example in case Server has gone bad and got reprovisioned, but it may got its brick and want to use same brick.
Approach
With this feature, oVirt will start supporting reset-brick functionalty in case Server has gone bad and got reprovisioned, but it may got its brick and want to use same brick.
User Interface
New tabs will be displayed as sub-tabs when user selects a brick from the "Gluster Volume -> Bricks" sub-tab.
Actions on "Bricks" tab / sub-tab:

Reset Brick
Input for reset-brick is host,volume and existing brick.

Note: Reset brick will only work with the existing brick, it will not recreate or replace any brick.
Once User will click on "Reset Brick", One Confirmation window will pop up.
A sketch of "Reset Brick" confirmation window: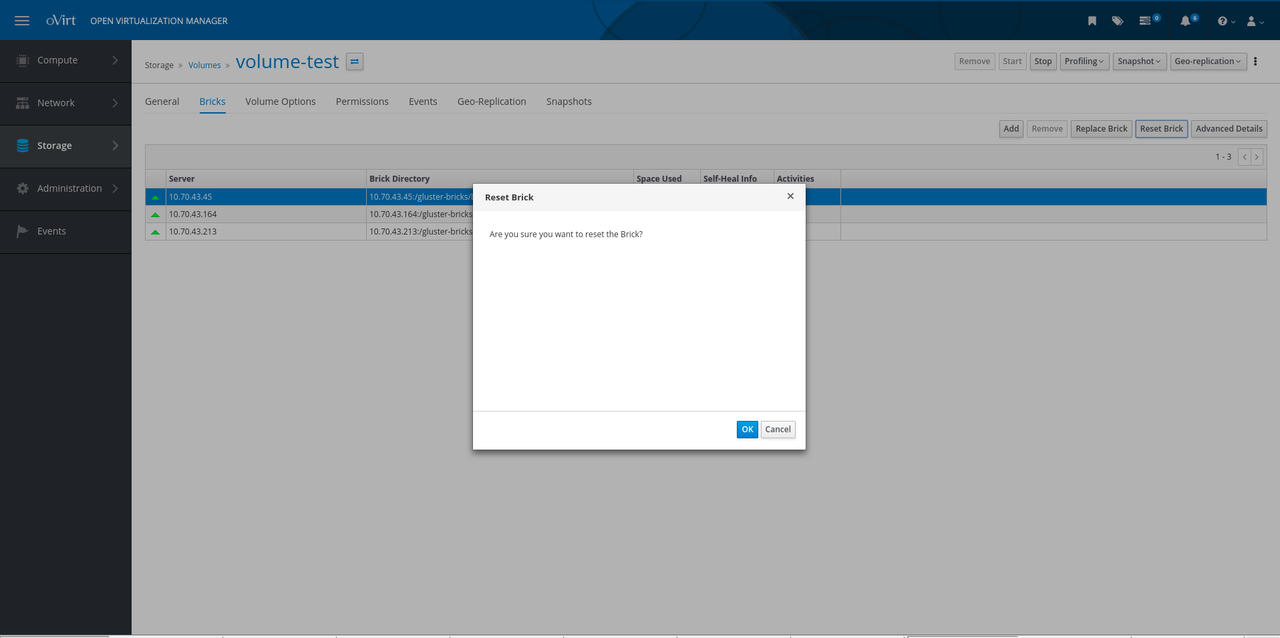 Audit
Operation that result in "Reset Brick" of Gluster Volumes -> Bricks, and any errors that may occur during the same will be audited. The audit log messages will be available in the "Events" tab.
Notifications
All the Gluster related events that are audited will be available to be subscribed for email notifications. A new category "GlusterVolume" will be added to the notification subscription screen with following events:
Gluster Volume Reset Brick started
Gluster Volume Reset Brick start failed
Gluster Volume Reset Brick reseted
Gluster Volume Reset Brick reset failed
Dependencies / Related Features and Projects
Affected oVirt projects:
Engine-core
Webadmin
VDSM
Benefit to oVirt
Brick can be reused in case server reprovisioned or goes bad.
Documentation / External references
GlusterFS : https://docs.gluster.org/en/latest/