Feature pages are design documents that developers have created while collaborating on oVirt.
Most of them are
outdated
, but provide historical design context.
They are
not
user documentation and should not be treated as such.
Documentation is available here.
Clone VM
Summary
Allow to simply and directly clone the VM.
Owner
Current status
Target Release: 3.6
Status: done
Background
Up until now there were the following ways to create a copy of a VM:
Make a template, make a new VM from this template
Make a snapshot and clone the snapshot
It would be useful to provide a way to clone a VM directly.
Implementation
All the logic is implemented in the CloneVmCommand class. Since it is very similar to cloning a VM from a snapshot, the common logic between the CloneVmCommand and AddVmFromSnapshotComman has been extracted to the common AddVmAndCloneImageCommand base class.
Frontend
As shown in the following picture a new action button called "Clone VM" has been added to webadmin/userportal virtual machines tab:

When clicked, a new window will be opened containing only the new name of the VM: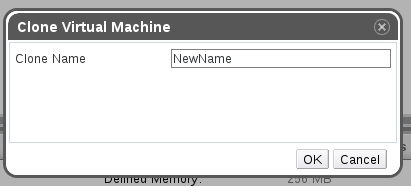 After clicking OK the clone of the VM will be made.
REST API
A new action has been created on the VM called "clone". It takes only one parameter in the request body, the name. To clone a VM using the REST API send a POST request to: <engineUrl>/api/vms/<vm id>/clone
with body containing:
<action>

 

<vm>

 

<name>

newName

</name>

 

</vm>

 

</action>



Testing
Test Case 1
Have a VM with no disks
Clone the VM
Verify the new VM has no disks
Verify all the parameters of the VM have been cloned
Test Case 2
Have a VM with one disk
Clone the VM
Verify the new VM has one disk
Verify all the parameters of the VM have been cloned
Test Case 3
Have a VM with two disks
Clone the VM
Verify the new VM has two disks
Verify all the parameters of the VM have been cloned
Test Case 4
Have a VM with an attached shared disk
Clone the VM
Verify the new VM has the disk attached as well